31 7월

Get away from boring treadmills and have fun with DRAX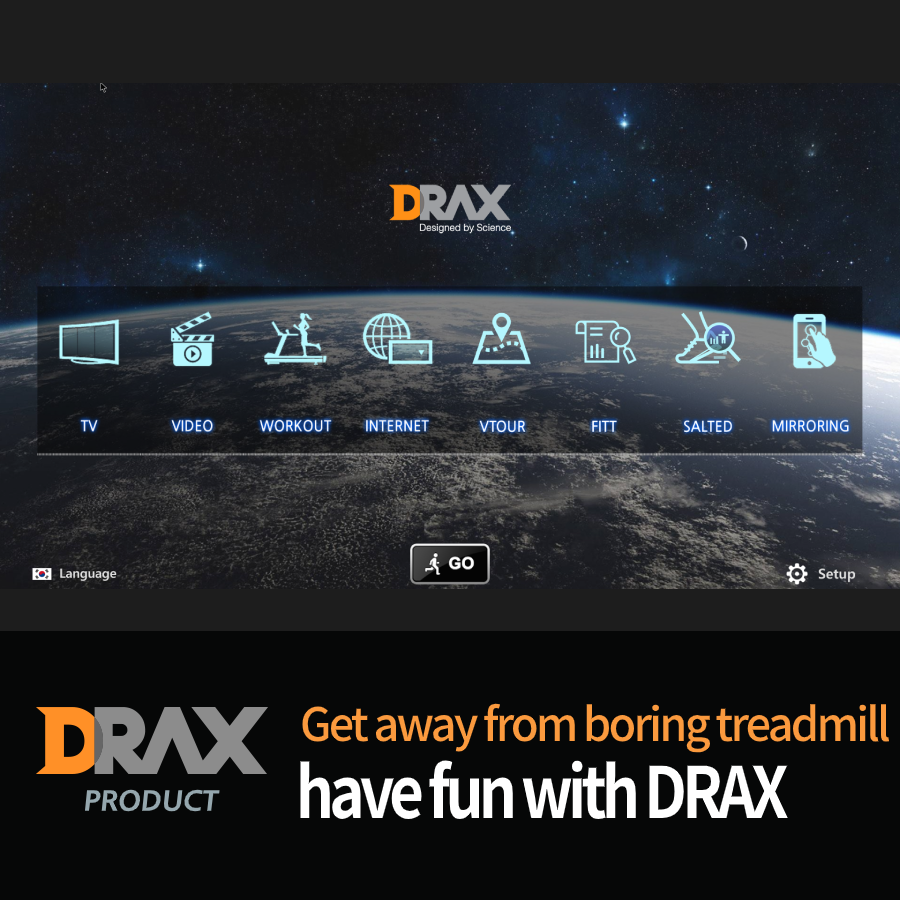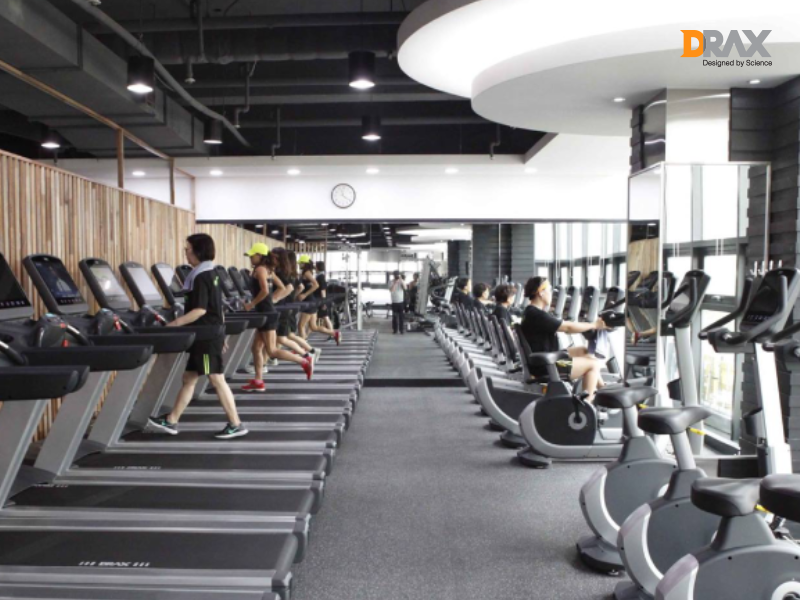 Wait! Your cardio feels boring?
Cardio workouts like treadmill running or biking make you to repeat the same movement over and over from 30 minutes up to 1 hour. Hence, most of us try to fight the boredom associated with them by watching TVs on the machines. This is a boring moment for all of us. How can we have fun while doing cardio workouts?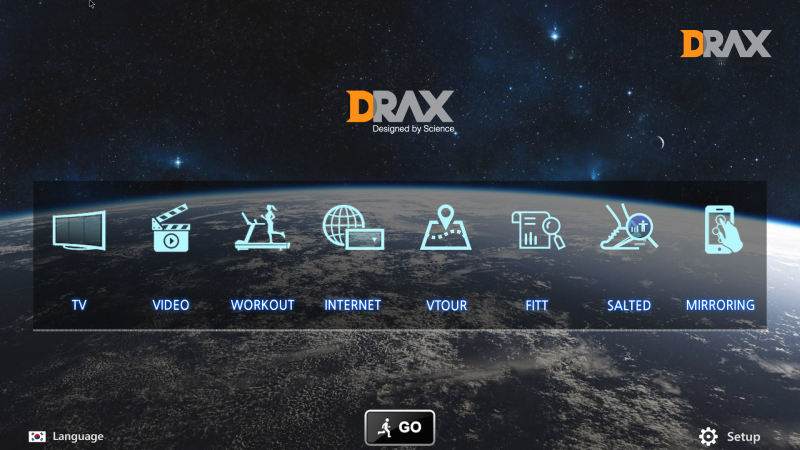 DRAX's cardio machine monitors have its unique Android OS system inside them. They contain 8 different programs such as TV, WORKOUT, INTERNET, and VTOUR that you can easily choose and enjoy while working out simply by touching the screens. Now, let us introduce the main programs that you can enjoy with DRAX cardio machines.
With our world's first automatic pace control function 'Speed Sync', enjoy your workout
Running is destined to be boring for most of us. However, with a workout program that applies Speed Sync, you won't feel boring at all while you achieve your workout goals! It is because Speed Sync automatically detects the movement of users and controls the speed by itself to boost both the effectiveness and fun of workouts.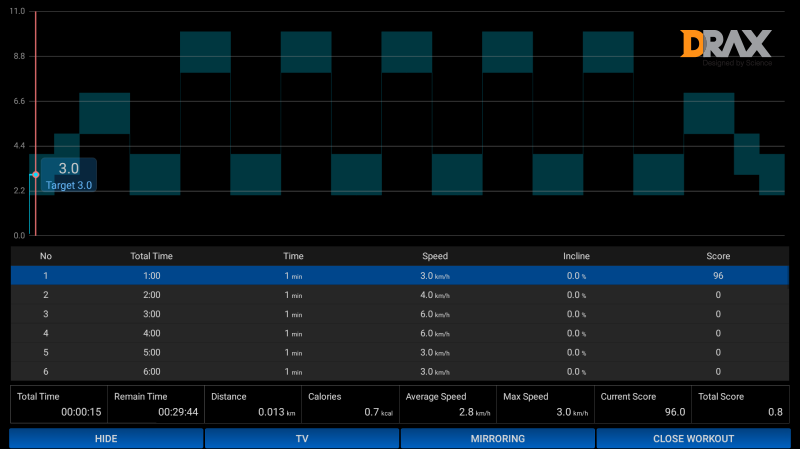 Existing treadmills, regardless of users' intentions, works under a set speed. However, Speed Sync of DRAX Treadmill allows you to workout based on your pace. You don't have to control the speed of the machine when you either want to slow down or go faster. It is just like running a marathon. It grants you an opportunity to work out with your own pace to have a more autonomous and effective workout session.
Travel around the world on your treadmill! Feel the composure DRAX VTOUR provides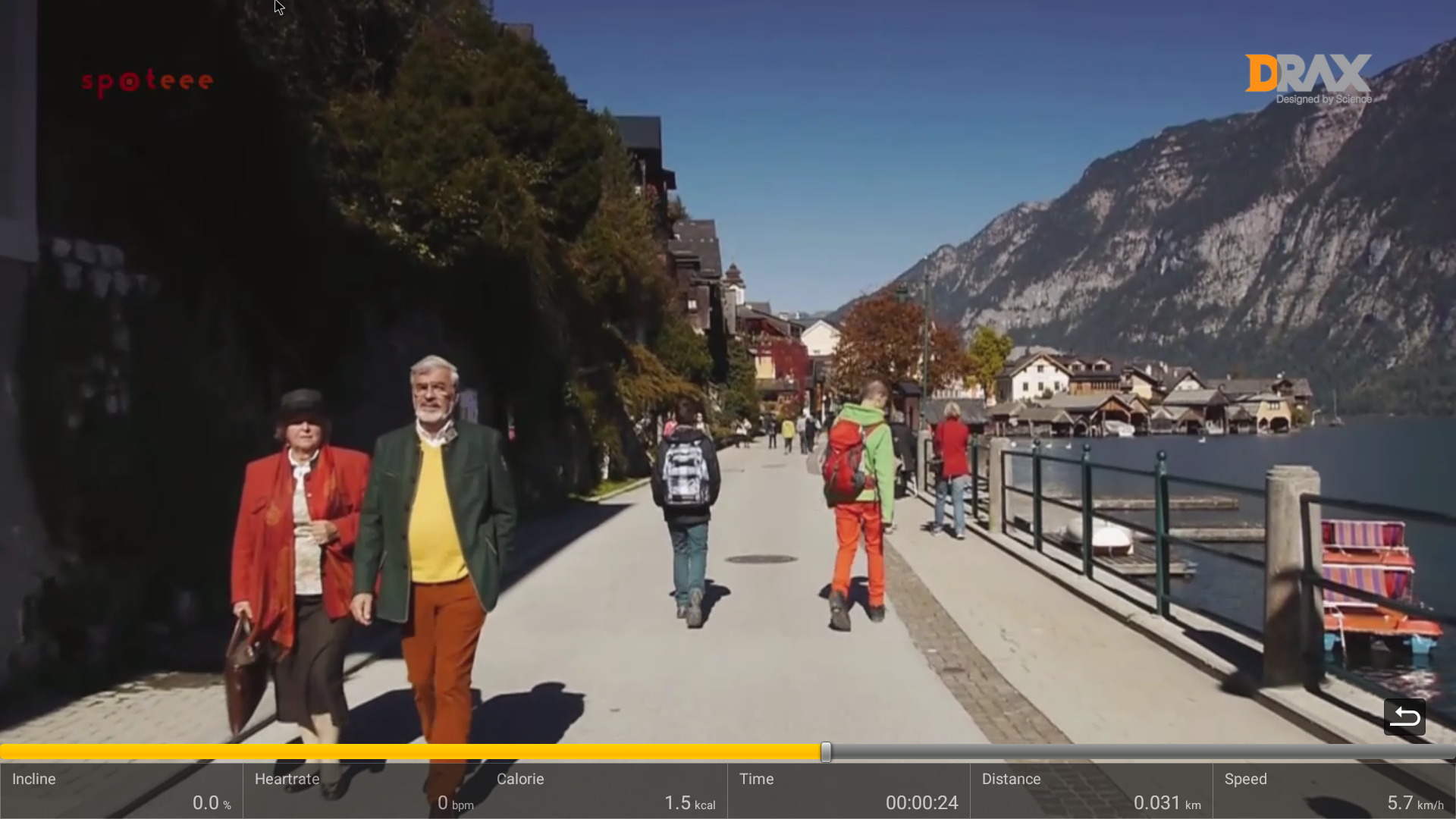 VTOUR is a program that can be enjoyed with this Speed Sync technology. In DRAX VTOUR program, there are numerous POV videos of various places around the world. Pretty alleys of Europe, main streets, romantic beaches, you name it. VTOUR will bring them to you.
The videos will automatically set the play speed based on the speed Speed Sync detects. The videos will be played faster if users run faster and slower if users walk slower. It will make you feel as if you are really there. Working out while watching sceneries of various countries will double your fun! 🙂
See your phones on bigger screens through DRAX 'Mirroring'
Have you ever seen a treadmill that supports a mirroring function?
DRAX succeeded in mirroring phones on workout machines! To put it in a different way, it means that you can now do the things you have done only on your phones on treadmills or bike monitors!
Simply connect your phones to workout machines through Wi-Fi. Watching Youtube? No problem! Video calls? Not an issue! Pose monitoring through phone cameras? Sure! It will broaden the boundary for activities that can be done while working out.
Today, we have looked through various functions of DRAX monitors that will help you have fun while doing cardio. From now on, stop only watching TVs on treadmills. Instead, utilize each and every function of DRAX monitors!